Rugby Betting Markets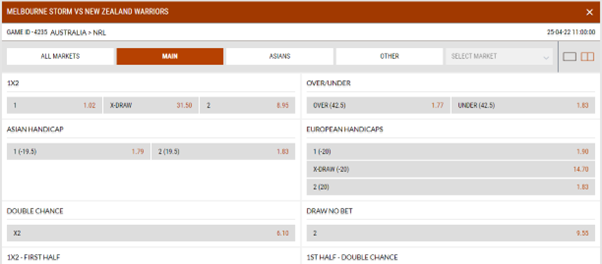 To Win
To win bets, also known as moneylines, are bets that can be placed on a team to win the match. These are standard bets that are available for all rugby matches. It is possible to back either of the teams to win, with shorter odds on the favourite and longer odds on the underdog. There will also be a bet for the match to end in a draw at full time though as rugby fans will know the likelihood of matches ending in draws are slim and therefore, the odds on the match to finish in a draw will be extremely long.
Handicap
In some matches, there are clear favourites to win who look like they will dominate the game and as such, the odds on them may be very short. Punters can turn to handicap bets to find longer odds. With these betting markets, the favourite team is given a points handicap and the underdogs are given a points advantage.
For example, if a punter placed a bet on team A to win the game with a handicap of -6.5, this means that the team needs to win the match and be at least 7 points clear of the other team for the bet to win. Conversely, if the punter places the bet on team B to win the game with a positive handicap of +6.5, this will mean the team needs to not lose by more than 6 points. If team B wins the match, or the match ends in a draw, the bet will also win.
A range of handicaps will be available such as -4.5, -5.5, -6.5, and so on. When placing a spread on the favourite, the higher the point disadvantage, the longer the odds will be. Bets on the underdog will be reduced with a positive spread, as it will be easier for them to win, but in games where they are the heavy underdogs, they will already have extremely long odds to win. Bettors who wish to place a bet on the underdogs will reduce the odds with a spread bet, but they will also significantly reduce the level of risk that comes with betting on the team.
Totals
Totals are bets on how many points will be scored by both teams in a game. This bet does not relate to which team will win the match which means that it does not contradict the to win or handicap bets. This means punters may choose to combine a totals bet with either a handicap or to win bet in a parlay should they wish to do so.
Totals bets are presented in an over/under format. There is a value given for how many points will be scored during a game, which is known as the betting line, and the bettor can bet on whether the game will finish with over that value or under. For example, there may be a bet of over/under a total of 39.5 points scored in a game. Punters can place money on the game to finish with under, in which case the combined score of both teams should not exceed 39 points, or they can place their money on over, in which case the combined scores of both teams must be more than 40 points. Usually there will be a number of betting lines that bettors can choose from, such as over/under 38.5, 39.5, 40.5 and so on.
There are many other similar bets. For instance it is possible to bet on how many points each team will score individually, how many points will be scored in each half, and how many points each team will score in each half.
Halves
There may be bets available on which team will win in one of the halves. These bets require a bit of strategic thinking. For example, if a team is famous for starting on the offensive and usually go ahead early, they may be a good option for a first half bet. Teams that tend to take their time and tend to score a lot late in a game may be preferable for punters who want to bet on the second half winners.
Often it is possible to place handicap bets and totals bets on individual halves as well, meaning that there are several betting opportunities.
Specials
There may be many more betting markets available on games between top teams or in major competitions. These can include bets that relate purely to game statistics and not to which team will win the match, or they can be far more specific bets that come with long odds but are difficult to predict. There may be bets such as odds/evens full match, odds/evens halves, where punters can predict if the total score will be an odd or even number at the end of the game or in one of the halves. Bets such as how will scoring will open, whether it will be a try, penalty try, drop goal or penalty may also be available, as well as bets such as first try scorer, player with the most tries, will the first try be converted, race to X points, highest scoring half and so on. Some of these bets can pay out in the first few minutes of a game, whilst others may be decided at the end of the game, but all of them will definitely be attractive for rugby fans.
Live Betting
Punters may benefit greatly from the option to place live bets. These bets can be placed at any time during a game and have odds that are constantly updating to reflect the action. Nearly all of the bets discussed above will be available to place during a game. However, what makes live betting truly exciting is the ability to bet on the next thing to happen. For instance, it is possible to bet on the next team to score, the next player to score, how the next points will be scored, the next player to foul, and so on. As such, by keeping a careful eye on the game, watching the odds, and using your understanding of the sport, you may be able to spot some excellent betting opportunities.
How to Research Bets
The key so placing successful bets is research. There are many different things to consider that can influence a game. Some things are truly obvious, such as statistics relating to a team's recent forms, the head to head record of the two teams, whether there are any injured players, and so on. You may also want to consider factors such as how long each team has had to rest between fixtures, if one of the teams has had to travel a great distance and may be fatigued, and also the weather and the impact it will have on the field.
Unfortunately, even the most careful research will not guarantee that you win your bets. However, it certainly can't hurt and the more research that you are able to do, the better your chances will be.