Bet Types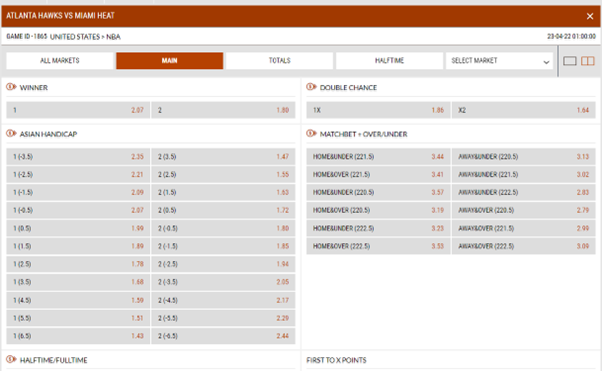 Basketball bets can be divided into the standard bets that can be found on virtually every basketball game and those that may only be offered on high profile games. Whilst the game props and bets that fall into the "specials" category usually sound the most exciting, the standard bets are still the main go to for punters as they may find them easier to predict.
Needless to say, all of these types of bets add to the excitement of watching a basketball game and they can also bring some sizable winnings with a win.
Moneylines
Moneylines are the most straightforward bet, here the punter picks which side they think will win. This is a two way bet, where odds will be offered on each team and punters can place a stake of their choice on one of the teams to win. Punters who may not know which team is tipped to win can check the odds: the side with the shorter odds will be the favourite to win, whilst the team with the longer odds will be the underdog.
Point Spreads
In games where one team is clearly the stronger side of the two, the odds on the team to win will be very short. Bettors may then look at what point spreads are offered to find bets with more attractive odds. Point spreads are markets in which the favourite team is assigned a points handicap and the underdog is given a points advantage.
If a bet is placed on a team with a point spread of -6.5, this will mean that the team has to win the game by at least 7 points to win the bet. This negative spread will significantly increase the betting odds and thus become a more appealing bet for a punter.
As mentioned, there are also positive spreads available for teams that are the heavy underdogs. For a positive spread of +6.5, the bettor will need the underdog to not lose the game by more than 6 points. This spread will reduce the dangers of placing money on the underdog but it will also shorten the odds.
Point Totals
This bet does not require one team to win, but instead it is a bet on how many overall points will be scored between the two teams by the end of the game. There will be multiple bets available, presented with a value such as 210.5, 215.5, 220.5 and so on, and then punters will be able to place money on whether there will be over or under that number of points at the end of the game.
For example, if there is a points total at 220.5, there will be a bet on the game to finish with over that value and another bet on the game to finish with less than that value. The points value provided is known as a betting line and often there will be several to choose from.
These bets are commonly in a parlay with a moneyline/point spread, because they do not contradict each other.
Live Bets
Sometimes bettors may feel hesitant to place their money on which team they think will win the game. In these cases there is no need to force a decision, as there are live bets which can be placed any time during the game. Live bets will be available as soon as the game starts, right until the final moments of the game, and bettors can use this to their advantage. After watching the first minutes of a game, it is possible to place more informed bets.
However, live bets have odds that are constantly changing. The bets are updated in real time according to which team is ahead or playing better, so if bettors wait too long they may find that the bet they wanted to place only has a fraction of the odds compared to at the start of the game. Usually, earlier is better for live bets, as the game is still open and the odds for either team will be higher.
Futures
After a season finishes, basketball players take a short break before they start preparing for the following season. Odds for the winners of the following season may appear around the same time, giving the option for eager fans to place their bets before the season begins.
Futures, also known as outrights, relate to events that unfold at the end of the upcoming season. These usually relate to which team will win the league, but in higher profile leagues such as the NBA, there may be futures for which team will win the western/eastern conference, will a team make the playoffs, which team will win the conference finals and which team will win the NBA finals.
Many More Bets
Basketball games are packed with action, including outstanding team performances or individual performances by the players. Often there are prop bets available on games, which are bets on events other than a specific team to win.
Some consider these bets more advanced, although they are not difficult to understand. There may be bets such as total 3 point shots made, total rebounds, total assists, total blocks and more. There may be specific bets available that focus on individual performances such as how many points a player will score, number of assists by a player, which player will score the 1st field goal and more.
There may be bet types that have many options, such as first team to X points, where there are multiple single bets for either team to be the first to reach 5, 10, 15, 20, and more, points.
How to Research Bets
Most fans who have watched many games and are familiar with the current players will have a big advantage. When it comes to researching basketball bets, there is a lot of information that can play a hand in helping to determine which team will win a game.
The first thing to look at is where the teams are in the league rankings, if it applies. If the season has just started than historical statistics from the previous season may be a good indicator. Next, information such as which team has home advantage, do either of the teams have injured key players, the form of the teams over their last games and which team comes out on top in the head to head games, may all be useful in helping predict how a game may unfold.
If punters want to take their research further, they may look into either team's home and away records. Usually sides perform better at home, but there are occasional seasons where a team performs better on the road, whilst others may suffer from inconsistency playing at home.
Of course, there is no such thing as a guaranteed bet. However, the more information that is taken into account, the better your chances will be of plac